Laguna Bacalar
In bright sunlight it's hard to believe the vivid blues your eyes are seeing, that a freshwater lagoon could have such beauty, but seeing it you will understand why it's called the Lagoon of 7 Colors. Bacalar is still a small village, with many good economical restaurants, a slow paced relaxing atmosphere, in the center of Costa Maya. In Bacalar you will enjoy your time exploring the lagoon, maybe kayaking, on a boat tour, swimming, enjoying local flavors of food . And visit the Cenote Azul, were you can jump off the roof of the Cenote Restaurant into the deep clear water. Take advantage of your stay and visit the 'market place', in the center of town, an ideal place to get to fresh herbs, fruits, vegetables, nuts, fresh fish, and other seafood, chicken, meat, flowers, and so much more.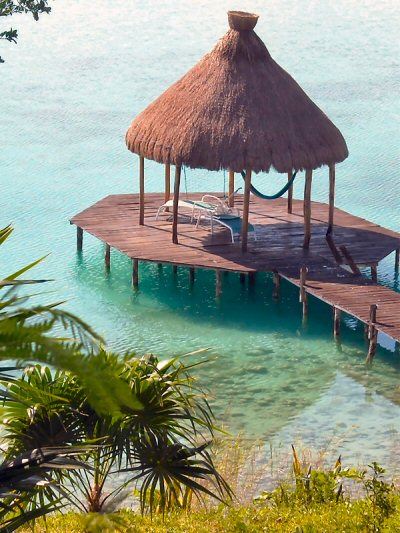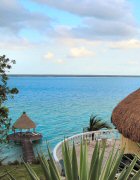 Click to View Pehaltun Villas Location in a larger map, on Google Maps.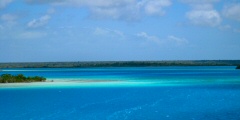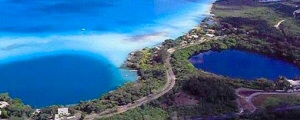 The town of Bacalar is in the center of all the great areas Costa Maya has to offer.





See the nearby Maya Ruins of Chacchoben and Kohunlich. And the visit the nearby towns of Mahahual, Xcalak, Chetumal, and Belize.
Chacchoben Ruins
-
Three excavated and restored pyramids. Excavation is continuing on several mounds which are known to contain further buildings.
Kohunlich Ruins
-
Large pre-Columbian Maya site, and covers about 21 acres, surrounded by dense sub-tropical rainforest, contains almost 200 mounds.
San Pedro
-
Belize Ambergris Caye the largest Island in Belize, the town of San Pedro is on the southern part of the island of Ambergris Caye in Belize.
Mahahual Village
-
Cruise Ship Pier location, some very nice Hotels and good Restaurants. Try to visit when not a cruise ship arrival day for more enjoyment.
Xcalak Village
-
a small fishing village slowly changing to more tourism. Generally know as a great fishing and diving area, a place to enjoy with no crowds.
Chinchorro Banks
-
Dive & Snorkel the Coral Atoll Banco Chinchorro. Chinchorro is 18 miles offshore from Xcalak and is still a must on most Divers to-do list.
Chetumal
-
Capital City of Quintana Roo. Maya Culture Museum in the center of town with beautiful artifacts on display. A Large Mall with Theatres.
Belize Free Zone
-
Duty Free Shopping and 3 Casinos, on the border of Mexico and Belize. The Free Zone is close to Chetumal, in Belize. (
passport needed
).