Villas
All our Villas have :
Electric, hot water, private bathroom with large couple-size showers, quality bed linens and towels. Kitchen essentials (glasses, plates, silverware, pots & pans, kitchen towels, dish soap, etc.), coffee maker, fridge, microwave. TV with DVD player. A/C is available in the Cabana & Casita, and much more.
And available to all guests is :


Our Palapa roofed dock, perfect for being in the shade, or if you want to sunbathe, and is for all our guests to use and enjoy.
The dock has Hammocks to relax, read, or nap in, with Lounges that can be easily moved from shade or to the sun.
Two one-seat Kayaks are available at no charge to explore the Lagoon.
Hi, I'm Ginny, and together with my staff we will ensure that your stay in Bacalar is a perfect vacation time.

Welcome to Pehaltun Villas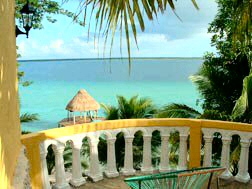 Pehaltun is a large compound on the shore of Laguna Bacalar in Quintana Roo, Mexico.
Three Villas are available for rental,
We are 3km north of the town of Bacalar .
Over four acres consisting of the main house, three rental villas, and a caretakers cottage. With the amazing colors of the lagoon, peaceful surroundings, and the charm of Bacalar. Bacalar is a small village with many good restaurants, and a relaxing atmosphere.
Bacalar is in the center of Costa Maya, your midpoint gateway to visiting Mayan Ruins, the Caribbean, and Belize. While in Bacalar you can enjoy your time exploring the lagoon kayaking, on a boat tour, swimming, or swimming in the Cenote Azul. Many visitors fall in love with the beauty of the area, make new friends, and some even decide to buy property or homes. Bacalar is a great place to live, and for you to visit on your vacation.
Each villa is an individual small apartment size house and we have very good rental rates. Please book as early as possible if you are interested in staying at one of the Villas during Winter Season. Each Villa is $80 to $90 per night depending on Summer or Winter time.
Latest News, November 2012
The Cabana Villa is being remodeled and will be available again early December. We are very excited about this it's making it even better than before.
We have cooler weather just recently, it makes it so enjoyable to explore the lagoon by kayak. Lot's of our winter birds are back, & seeing Toucans around.
Thank you to all my guests you know how much I enjoy having you here, visiting with you, and sharing my beautiful spot of Bacalar Lagoon, Ginny